Transforming Justice: The Experience of Violence and the Work of Healing in Communities of Color
June 23, 2016 from 9:30am – 3:30pm at the Holiday Inn in East Hartford, CT
This will be an in-depth look at the experience of sexual violence, emphasizing Black, Native and Latino LGBTQ people. From systemic and state violence, the notable absence of compassionate care options to intra-community violence, we will take a multi-pronged approach to existing narratives around Queer and Trans people of color. Including references to disability justice, youth-led initiatives and women-centered methods, we will disrupt pathologies often ascribed to these groups.
Using videos, social media examples and engaging activities, we will identify existing challenges as well as strategies and resources impacting individuals and groups positively. Additionally, we will focus on localized short- and long-term responses led by individuals and groups without institutional support. Exploring alternatives to punitive justice, we will draw on community-based initiatives grounded in principles of transformative justice.
Tiq Milan is a writer, journalist, and regular on-air contributor to Huff Post Live and various MSNBC news outlets. He has penned articles for BET.com, Rolling Stone, The New York Times, The Source, Vibe and others on issues facing the LGBTQ movement. Tiq is the former editor-in-chief of IKONS Magazine, an LGBTQ pop culture magazine, and has been a freelance pop culture journalist for several years. He is currently the Co-Chair for the LGBTQ taskforce of the National Association of Black Journalists.
Kim Katrin Milan is an award-winning and internationally acclaimed artist, educator and writer. She is the Co-Founder and Executive Director of The People Project. This organization spans ten years of local and international community development through alternative education, artistic activism and collaboration. A public researcher, consultant and human rights educator, Kim shares over 100 unique resources and presentations online, and has delivered hundreds of workshops and trainings on intersectional issues including race, ability and gender. As a social entrepreneur, she speaks to women's leadership and ethical business practices. She is one of the owners of Glad Day Bookshop, the oldest LGBTQ bookstore in the world.
Together, Tiq and Kim Katrin Milan speak about creating love in queer communities of color and intersectional approaches to human rights activism. To learn more about their work, visit Tiq Milan's website and Kim Katrin Milan's website.
This event will be held in the Ballroom at the Holiday Inn located at 100 East River Drive, East Hartford, CT. The training is free and open to the public. Registration is required. We encourage you to register early. Same-day registration begins at 9am. Lunch will be provided. Click the poster below if you would like to download and print it.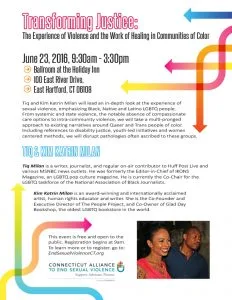 ---
This project was supported by Grant No. 2012-WF-AX-0015 awarded by the Office on Violence Against Women, U.S. Department of Justice. The opinions, findings, conclusions and recommendations expressed in this event do not necessarily reflect the views of the Department of Justice, Office on Violence Against Women.