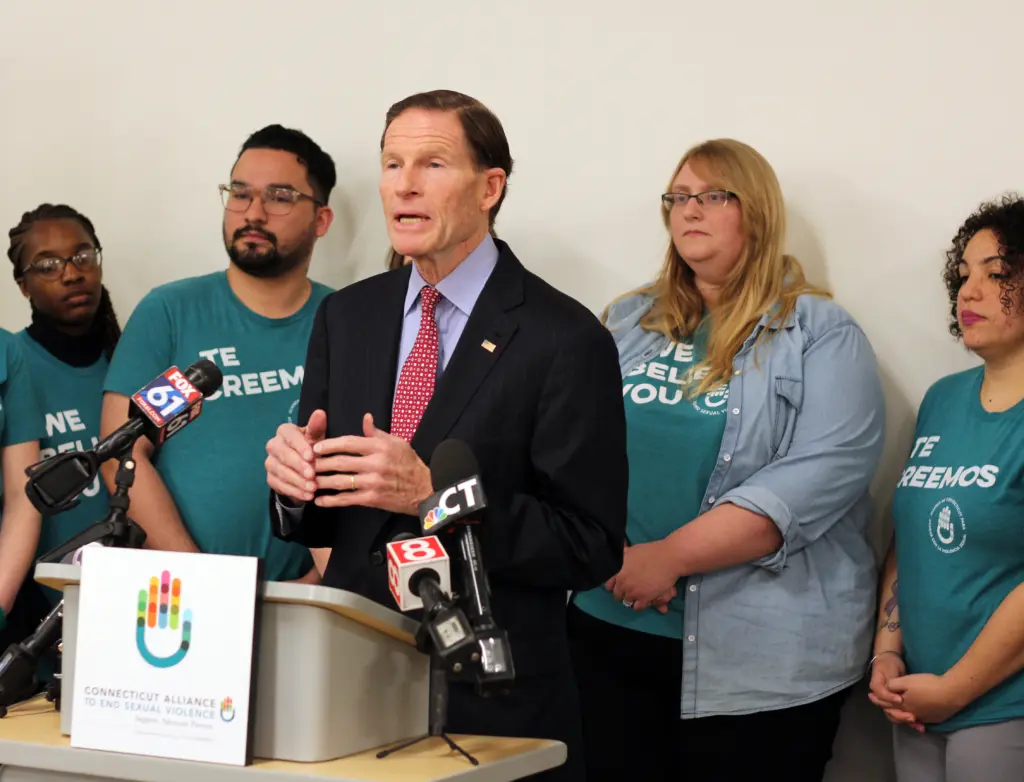 Senator Richard Blumenthal joined the Alliance Thursday to highlight federal funding set aside to be used for the processing of sexual assault evidence collection kits. The latest federal budget earmarks approximately $48 million to be used to support the Sexual Assault Kit Initiative.
"We're talking about respecting and honoring survivors who are willing to go through the sexual assault kit process," Blumenthal said. "This will be funded through federal money and we'll be fighting for our fair share of it."
Alliance Deputy Director Beth Hamilton pointed to the funding's significance to survivors.
"While we are talking about sexual assault kits today, we need to remember that there are real people behind each one of those kits and the brave survivors who have gone through the evidence collection process deserve a path to justice."
Further funding will kelp keep the state free of untested sexual assault kits which may result in a higher number of people coming forward to report and go through the evidence collection process. "These kits would literally sit on the shelves for years and years and years," Blumenthal said. "The more that's done, the more survivors and victims come forward because they begin to trust the system…it's a virtuous cycle."
Over the past few years, Connecticut has used federal money to put an end to a growing backlog of untested sexual assault kits.
In October of 2019, Connecticut was honored by the Joyful Heart Foundation for its comprehensive kit reforms including the complete elimination of our state's backlog. Through federal funding, the Department of Emergency Services and Public Protection was able to develop and implement a state-wide tracking system as well as test approximately 2,000 kits that had not yet been fully processed. "These funds have been instrumental," said Deputy Director of Forensic Biology and DNA Kristin M. Sasinouski. The funding to end the backlog was supplied by three federal grants totaling $4.6 million, according to Sasinouski.
Prior to the SAKI initiative implemented in 2015 under Gov. Dannel Malloy, about 500 victims and survivors annually would have a sexual assault evidence kit completed, according to Sasinouski. After the initiative was set in place that number jumped to between 700 – 800 kits annually and still hovers in that range each year.